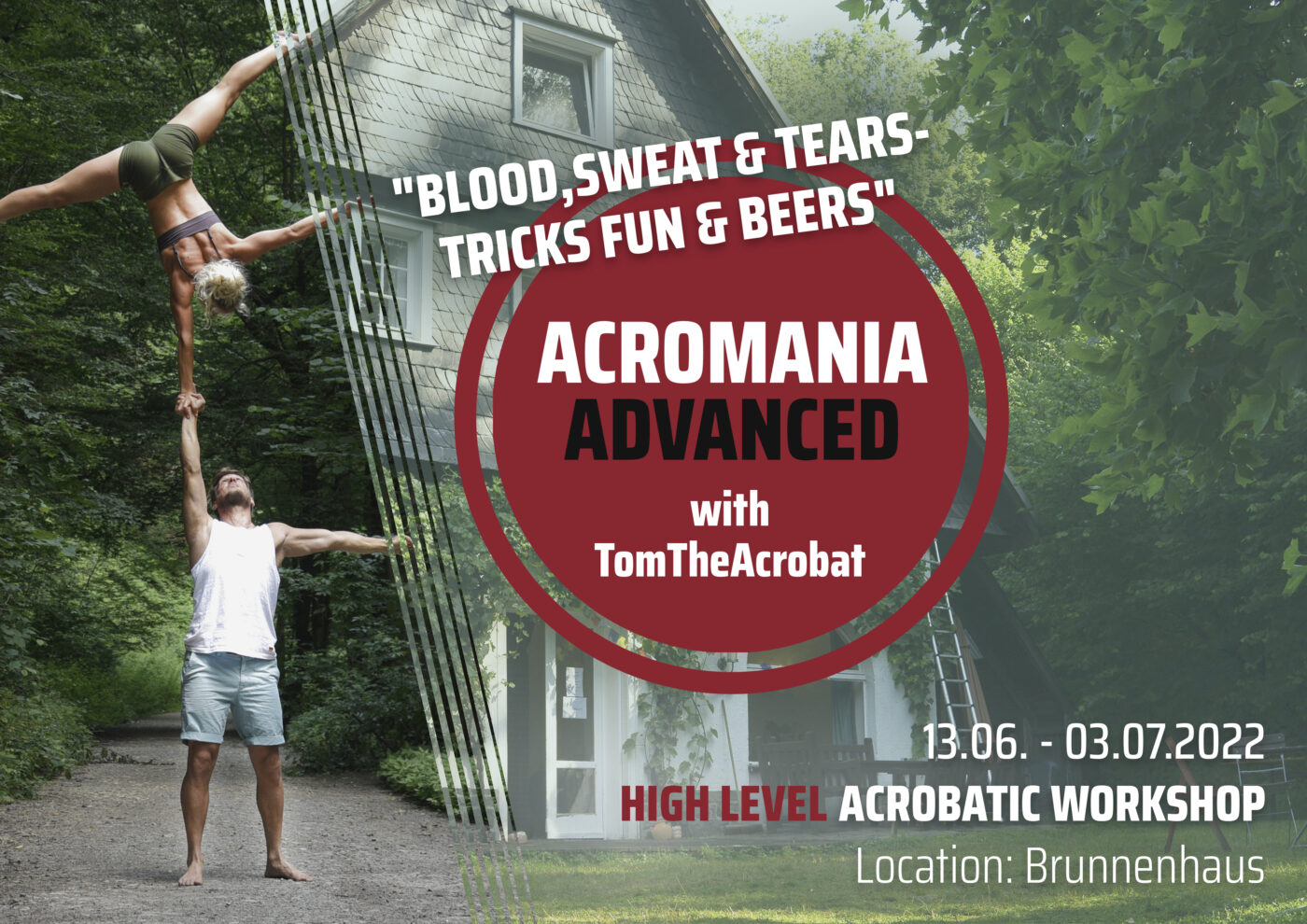 Acromania Advanced
Hello Acrobats,
I am very happy to announce that in Summer 2022 "Acromania; blood, sweat & tears!" will be back for the 2nd edition, with some upgrades and changes 
The workshop includes 3 meals a day, 5 – 6 hours of acrobatic workshop, longes, a tent which protects us from sun and rain, sleeping in the house, sauna, paddle pool and campfires.
The food will be provided from the great Paul (@Paulkocht)
Whats new:
6 nights stay at Brunnenhaus
more rain protection (and hopefully less rain)
a special dinner & party on the last evening
sauna all week long
>>>About the Workshop<<<
Every day we start with a handstand or gymnastic session, followed by basic training. After we will have 2 acrobatic sessions and some jam time.
The content will be tailored every week based on the wishes of the participants. There will be different options for every trick, depending on the level.
General Content:
– high level H2H and F2H basic training
– Tricks in H2H and F2H (entrances, transitions, dismounts)
– Cool flying tricks (all the things you always wanted to learn! for example: kurbet, cascade, handspring, salto, kamikaze, one arm, dislock, diamidov, Tkatchev, …)
– Knots & one arms
– Helping you with your trick (There will be enough time for wishes and guided jam time)
– How to take tricks out of lines
– How to spot dynamic skills
– High Level Banquine and Group Acrobatics (if wished)
Pre-Requisites:
STANDING HAND TO HAND
– 10 seconds (safe and easy)
– base can walk + squat
– long arm h2h
STANDING FOOT TO HAND LONG ARMS
– 10 seconds (safe and easy)
PODSHEDSHKA / CUT UP / INLOCADE (FOR THE AMERICANS) TO STANDING ON SHOULDERS base needs to push to long arms, flyer needs to roll till hands touch the knees
PITCH/STAFF/EINSTEIGER TO F2H (normal or reversed) with spotter
>>>The Dates<<<
Week 1
13.06. – 19.06.
Week 2
20.06. – 26.06.
Week 3
27.06. – 03.07.
Monday: arrival (from 17:00), dinner
Tuesday: breakfast, training, lunch, training, dinner, sauna/campfire/beer
Wednesday: same as Tuesday
Thursday: same as Wednesday
Friday: business as usual
Saturday: business as usual + special dinner & party
Sunday: brunch, open training, leaving time
>>>Registration & Prices<<<
early bird (till 30.04.2022)
dorm/van: 465 €
double room: 520 €
lazy bird (from 01.05.2022)
dorm/van: 540 €
double room: 595 €
>>>Location & sleeping options & helper tasks<<<
The location is the "Brunnenhaus" close to Cologne. A very pretty Seminar house located at the edge of a forest, with sleeping rooms, community room, yoga/gym room, a little cafe, sauna, paddle pool and a little creek.
Different sleeping options:
Double rooms (modular beds)
dorms (4 – 6 Beds)
Van (limited parking spaces)
Each participant needs to do helping tasks. Those will NOT be at the workshop times, so you won't miss anything.