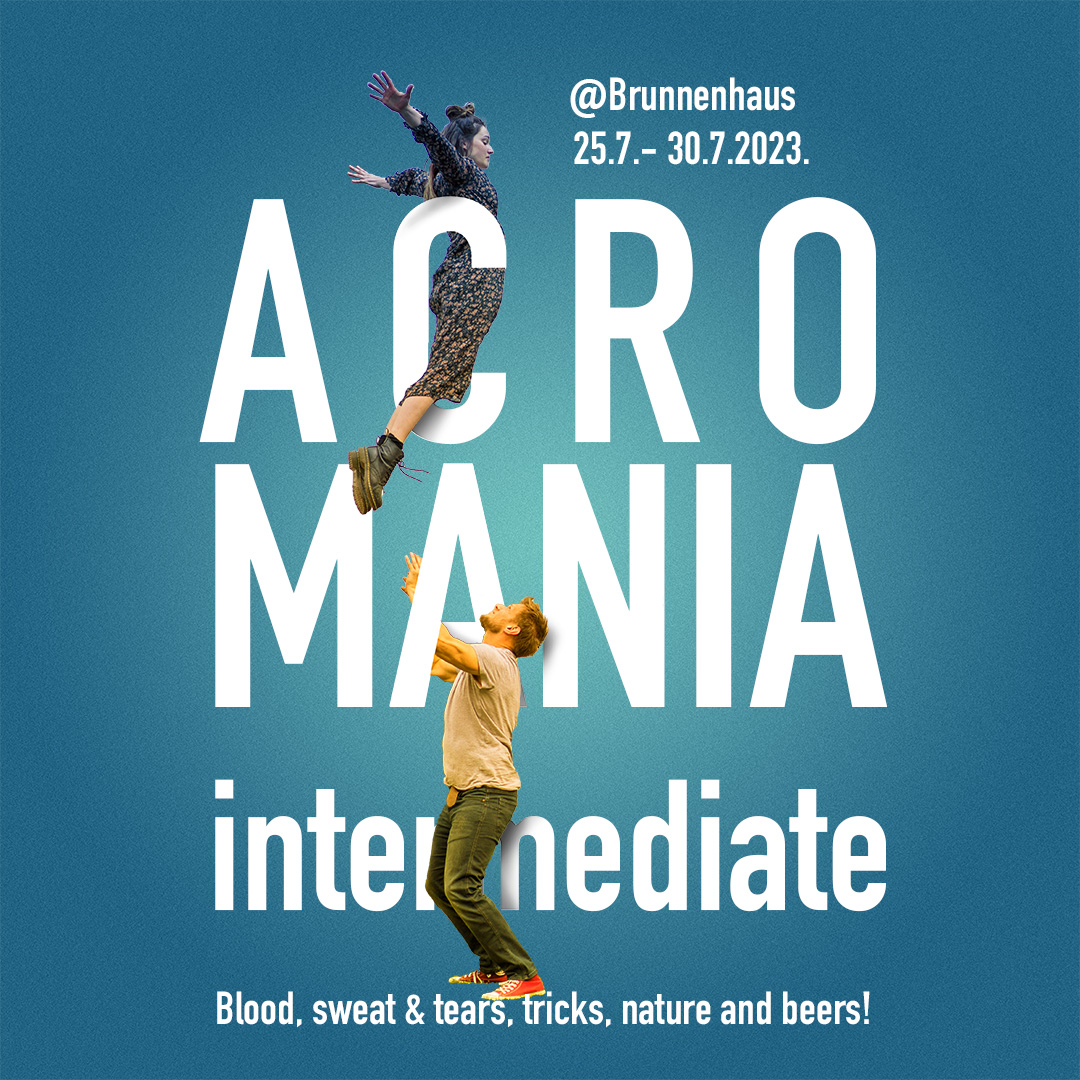 Acromania Intermediate
Hello Acrobats,
I am very happy to announce that in Summer 2023 "Acromania; blood, sweat & tears!" will be back for the 3rd edition. The workshop includes 3 meals a day, 5 – 6 hours of acrobatic workshop, longes, a tent which protects us from sun and rain, sleeping in the house, sauna, paddle pool and campfires.
The food will be provided from the great Paul (@Paulkocht)
>>>About the Workshop<<<
Every day we start with a handstand or gymnastic session, followed by basic training. After we will have 2 acrobatic sessions and some jam time.
The content will be tailored based on the wishes of the participants. There will be different options for every trick, depending on the level.
General Content:
– high level H2H and F2H basics (static and dynamic)
– Tricks in H2H and F2H (entrances, transitions, dismounts)
– Easy flying tricks (half turns; handspring butt down;…)
– Podshedshka & Pitch (building it up from the start, to some high level variations for people who can do it already)
– dynamic tricks in lines (how to start, how to practice, how to longe and how to coach)
Next to the technical training we also focus a lot on:
– How to spot dynamic skills
– How to break down complex skills
Every day starts with a specific warm up and preparation exercises and closes with some time for strength exercises and stretches
Pre-Requisites:
STANDING HAND TO HAND
5 sec safe and easy
jump in from the shoulders
STANDING FOOT TO HAND
10 sec safe and easy
PODSHEDSHKA / CUT UP / INLOCADE (FOR THE AMERICANS) TO STANDING ON SHOULDERS
BASE NEEDS TO BE ABLE TO PUSH THE FLYER TO LONG ARMS (STANDING)
examples: high bird, f2h, sitting on hands. I just want to chech the power of the bases.
>>>Schedule<<<
Monday: arrival day, dinner
Tuesday: breakfast, training, lunch, training, dinner, sauna/campfire/beer
Wednesday: same as Tuesday
Thursday: same as Wednesday
Friday: business as usual
Saturday: business as usual + special dinner & party
Sunday: brunch, open training, leaving time
>>>Registration & Prices<<<
Early Bird: (01.03.2023 till 31.03.2023)
limited tickets!!!
Dorm / Van: 520 €
Double Room Bed: 575 €
Lazy Bird
Dorm / Van: 595 €
Double Room Bed: 640 €
Social Pricing:
I try to make my acrobatic workshop accessible to everyone, who wants to join, regardless of their economic background.
If you are able to pay more, you contribute to the social pricing system and help others to afford the workshop.
sliding scale:
– 100+ %: you can donate to support others
– 100 %: normal ticket price
– Social price: you can use the promo codes "social10" or "social20" to get some discount on your ticket.
>>>Location & sleeping options & helper tasks<<<
The location is the "Brunnenhaus" close to Cologne. A very pretty Seminar house located at the edge of a forest, with sleeping rooms, community room, yoga/gym room, a little cafe, sauna, paddle pool and a little creek.
Different sleeping options:
Double rooms (modular beds)
dorms (4 – 6 Beds)
Van (limited parking spaces)
Each participant needs to do helping tasks. Those will NOT be at the workshop times, so you won't miss anything.
Nächste Veranstaltung
Datum

05 - 08 Okt 2023

Uhrzeit

17:00 - 00:00