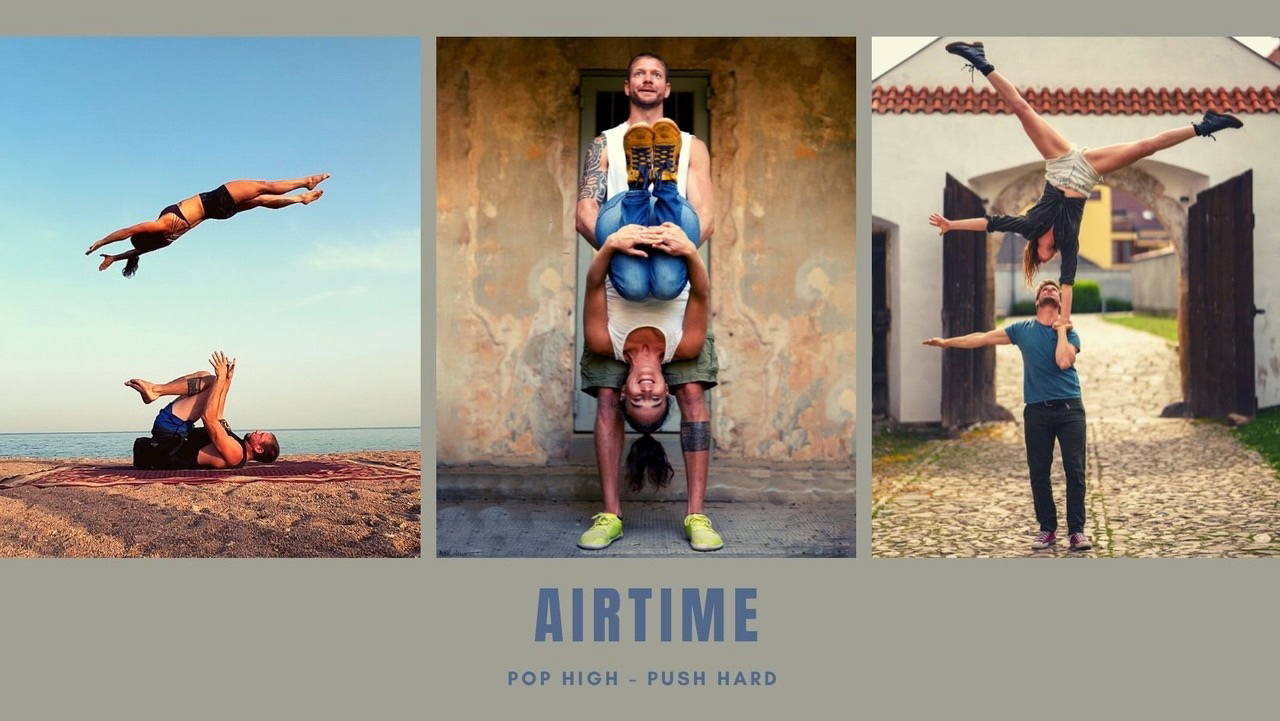 Airtime
Welcome to AIRTIME
Join this 4 day intensive workshop to deepen your practice in both icarian games and standing acrobatics. General Content will be on one side to improve your technique and on the other side to learn new, challenging tricks and combinations.
What do you get?
Three nourishing meals per day by our lovely cook Paul are included. You will stay in a beautiful retreat center with a sauna in the forest.
In 7 acrobatic sessions with 4 teachers
we cover a lot of ground in addition to acrobatics like yoga, meditation, strength training, recovery, mindset…
Meet the teachers:
Maya
Maya fell in love with acro 7 years ago and since then have been an enthusiast practitioner that always keeps exploring learning and building a soild technique. I'm here to help you go deeper into your dynamic practice – standing acro , icarian or trio fun.
Sebastian
Sebastian (international yoga and Partner Acrobatics teacher from Germany). The playful practice and sharing joy hooked him to Partner Acrobatics. He specialized on L-Base dynamic tricks (Icarian, whips, whip-pops).
Together we'll move through smart gradual steps, breaking down complicated skills, towards reaching your goals in acro in a safe fun way.
Tom
Tom is a professional circus artist and teachers who started training Dutch acrobatics, upgraded it with Ukrainian technique, refined his work under tutelage of various experienced coaches and incorporated elements of dance and martial arts in his movement.
His combined lack of discipline, natural ability to avoid hard work, love for comedy series, excessive sun bathing and awesome hair style, have created the performer and teacher he is today.
Edit: The corona break changed Tom, he doesn't care about his hair at the moment
Jordis
Jordis (yes it's a weird name),former special education teacher and linguist, student of languages, van living, house building, dog loving, handcrafting, constantly humming, hugging and ukulele playing life enthusiast turned into Yoga, Acroyoga and Thaimassage teacher.
Jordis is currently pouring her passion for space holding and exploring physical and mental boundaries into creating Brunnenhaus, a retreat center welcoming people from all walks of life.
Prerequisites:
L-basing:
– pop to rev. H2H
– Icarian pop front plank / bird pops (disconnection ;))
– Icarian throws chair either old school Dutch style or American hipster style
– Icarian pop from bird to throne
Standing:
jump to standing h2h (5 sec hold)
standing f2h, base can squat
Acrobatic Content:
– High level icarian cascades
– Basic icarian cascades & corbettes
– Castaway (for people that can do it refining to build up to high level variations)
– Foot juggling (tricks with only bases feet)
– Icarian Saltos
– Foot 2 Foot tricks
– entries and exits in standing h2h and f2h
– dynamic standing tricks
– Fun group tricks & combining icarian with standing
– Learn Progression for tricks
– Learn to keep scary tricks safe
Nächste Veranstaltung
Datum

05 - 08 Okt 2023

Uhrzeit

17:00 - 00:00