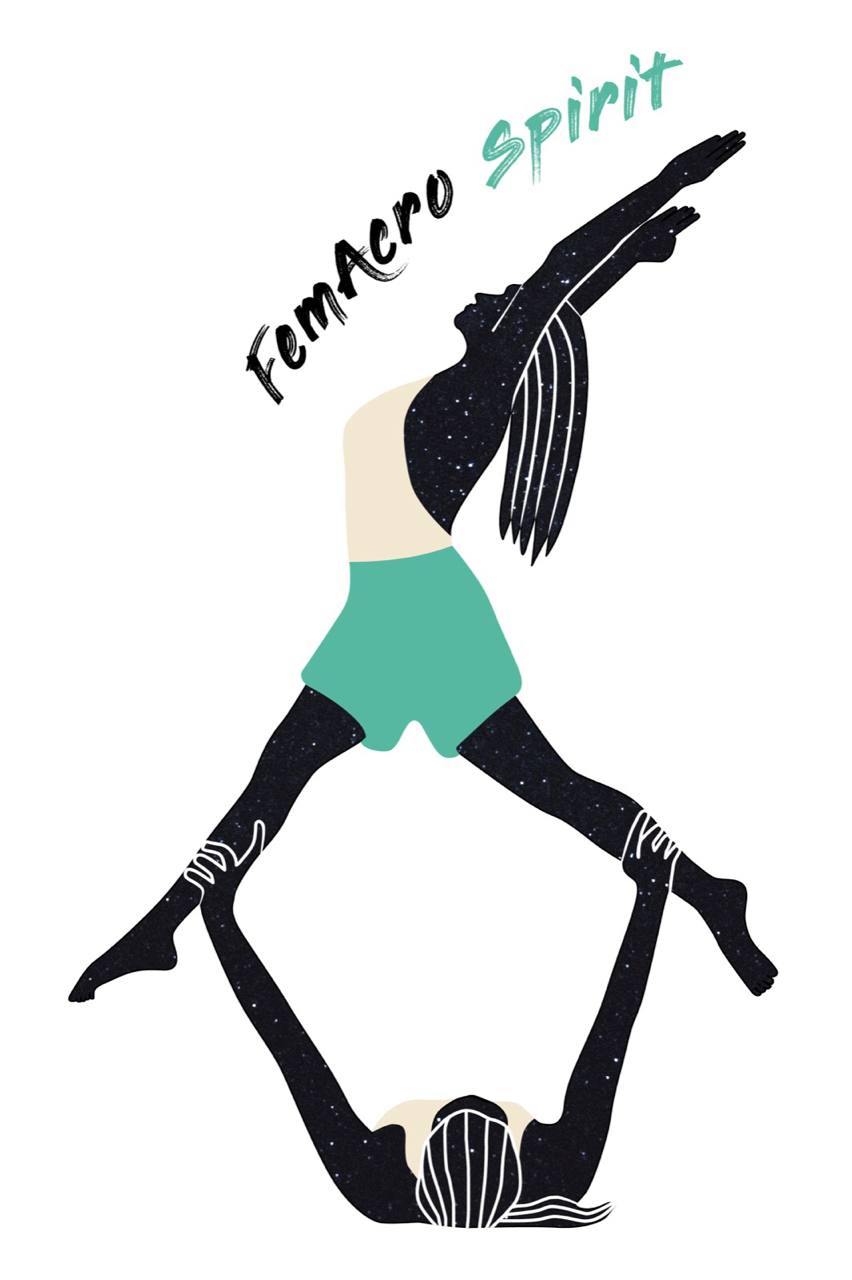 FemAcro Spirit Retreat
FemAcro Spirit provides an empowering and creative space for people who identify as female or gender nonconforming.
This is your place to try out new roles in Acro and/or in life, to find/re-find strength, to share your joy, to show vulnerability, to heal and most of all to connect/re-connect with your feminine.
In this amazing 4-days Retreat we will delight ourselves with loads of Acro, Female circle, Yoga, Meditation, Body Painting, Hoopdance, Handcraft and some specials!
Join us in this journey!
Teachers & Organization Team:
We are excited to share with you our international and talented team that will teach for all Acro levels (beginner, intermediate and advanced):
Marina Stützle / Heaven-OnEarth
Healing arts, Yoga, Acro and Discussions
Marina is currently located in Hamburg (Germany) and is a passionate Yoga- and Acro teacher and holistic physical therapist. Her first contact with flying bodyworks was back in 2009 in Thailand and since then she has been in love with Acro.
As there is a lot more to explore, she is also trained in various Yoga styles and Healing arts and has been sharing her passion and experience from the past 10 years in a holistic approach around the globe and in her yoga studio and physio practice.
You will experience an in-depth practice that combines ancient wisdoms and healing modalities with her knowledge from physiotherapy and yoga. Marina loves to create a space where healing, transformation and deep relaxation can happen.
So, join Marina for her multi-style yoga & meditation classes in the morning to wake up your body & spirit, get your Lunar Power turned on in her Thai & Fly – flying therapeutics workshop and infuse yourself in a sacred cacao ritual to open up your heart and merge with the shakti energy in our Female circles.
Find her at:
www.heaven-onearth.com
Facebook: MarinaHeavenonEarth
Instagram: marina_yogalifestyle
Michelle Verhoecks / FlowMies
Hoopdance and Body Painting
In the summer of 2015, Michelle discovered her passion for hoop dance. First seen, it looked like magic and blew her mind. Times of secretly dancing at her safe space home in a small room changed to flowing free in the park every day. For her, hoop dance is a way to step out of her comfort zone and form a unity with my body. Dancing with the hoop gives her joy and can bring her into a state of ecstasy. This form of expression brought her so many positive things in life which I do not want to keep for herself.
In 2018 she became a certificated Hoop Love Coach by Deanne Love and went to TADAH Artist Habitat in Turkey for the Advanced Teacher Training of Emma Kenna aka Hooping Mad. In her own practice, she explores her boundaries by dancing with new flow tools, body paint and combining this in colorful UV, LED and fire shows.
Find her at: 
https://flowmies.nl/en/
Instagram: flowmies
Monika Kolb
Acro and Stretching
Monika lives a colorful circus life between the gym and the stage. Acro is one of her great passions.
She loves to enrich the community with her knowledge and experience. That's why she enjoys teaching this beautiful way of moving and communicating with each other.
Find her at www.monikakolb.de
Daniela Wegele
Acro
"Airtime" has always been a great passion of hers! Whether on skis, on the trampoline, cliff jumping or flying on another person… she loves it!!!
* Owner Lilikoi * Yoga teacher * Certified ski instructor
Jolien Heetkamp
Acro and Handcraft
Jolien (Netherlands) fell in love with Acro after a session in the park, and knew she had to become a teacher. She is mostly a base but also likes to fly. Being able to do both gives her a more well-rounded perspective and makes her a better teacher. Washing machines, whips, pops, Icarian and even standing Acro, you can wake her up in the middle of the night for any of it.
Frieda Davey
Acro
Frieda is often to be found balancing herself upside-down, wrapped around a poledancing pole or just cart-wheeling outdoors. She discovered Acro in 2017 and with it the joy of movement.
What she most treasures of Acro is the playfulness, spontaneity, community feeling and the laughs when a pose does not look or feel as cool as you'd think.
For her it is never time to stop flying but she really enjoys stubbornly practicing her basing skills.  She has been co-organizing Jams and regular Acro events for the Acro communities in Mannheim and Heidelberg and offering beginner and intermediate workshops.
Isabell Vogler
Acro and Photos
Isabell Vogler (Isi) photographer, flyer and part time base
She is a commercial photographer based in Nuremberg. Isi can't sit still for a long time – movement and sports are a big part of her life. Since she was a child she has always been into sports. Gymnastics, soccer, volleyball, bouldering – Capoeira for many years and finally Acro since 2017. When it comes to training or conventions she is there right away! The most important thing for her during training and teaching is meeting lovely people, being part of the Acro community, lots of laughter and a good dose of adrenaline!
Lisa Dahm
Handstands
Liz, our handstand queen. She is also a yoga teacher and an advanced Flyer. She trains Acro, mainly Standing as a Flyer for over 5 years now. She loves to provide another perspective to life with going upside down. 
Jordis Troost (Co-founder)
Acro and Handstands
Jordis (yes it's a weird name)… former special education teacher and linguist, student of languages, van living, house building, dog loving, handcrafting, constantly humming, hugging and ukulele playing life enthusiast turned into Yoga, Acro and Thaimassage teacher.
During the past year she has somehow made the way back to her roots close to Cologne, where she is currently building her dream project called 'Brunnenhaus', a retreat center and meeting-place for movement, creativity and exchange.
As she is always looking for new adventures, traveling has been and still is an essential part of her life, so before she decided living on a construction site in the middle of the forest, she used to discover the world with Jack and Dieter. (No they are not her lovers they are vans, which is basically the same.) For Jordis traveling is not just about exploring the outer world but likewise about immersing into the inner self, which has led her to first her personal yoga and meditation practice and then to become a yoga teacher. The countless encounters she has made along the way, have inspired her and she has found movement in all its facets to be a universal language. When she started diving deeper into the practice of Acro and Thaimassage, these practices have become a way to express herself. In her experience, they hold the power to go beyond all boundaries and differences and that is why she loves sharing them. In her classes and workshops she includes all of these wild influences adding up to a unique playful way of teaching. Alongside 'technique' her focus is on empowerment, self-discovery, connection and community. She can't wait to share a lot of upside down time with you =)
Barbara Krüger (Co-founder)
Acro and Yoga
Barbara discovered Acro at a yoga retreat in Spain in 2014 and was in love right away. She started mainly basing and now also loves to fly every possible flight 😊. She made her first yoga teacher training in 2015 and many others followed. In her teaching she loves to combine the movement driven vinyasa with the stillness of yin yoga. And also, in Acro she likes to play with both, solar and lunar, yin and yang, active and passive. Both are important, both are fun, both need their time. She also organizes the AcroYoga festival TIMEOUT ACRO.
Lisa Böttger (Co-founder)
Acro and Handcraft
Lisa first came in contact with Acro in 2016 when she started a course in Nuremberg, where she also lives and works as a teacher for English, Art and crafting. She fell in love with this wonderful practice right away. In 2018 she completed a teacher training for yoga and a year later she joined the Partner Acrobatics Teacher Training. She thinks that Acro has the power to empower – she loves showing women how they can find their strength basing and believes that Acro is a great tool to learn communication. Her passion for movement doesn't stop at Acro – she also likes climbing, slacklining, basketball and believes that passionate dancing to 80s music in the kitchen cured most of her problems.
She will also teach you how to bind your own book during our crafting session.
Marina Rodrigues (Co-founder)
Acro and Discussions
Marina had her first flyer experience in 2017 and was excited about the strong connection Acro creates. Her passion grew even more when she started basing and sharing her knowledge with others. She believes Acro breaks barriers through its communication power and creation process. Her passion for movement and bringing people together led her to join the Partner Acrobatics Teacher Training in 2019. She is excited to teach some crazy Acro flows, to facilitate deep and intense discussions in the Female circles and to help you release tension through dynamic meditation!
                                                                                                                                                                                                   Prerequisites
Acro classes are offered for ALL LEVELS (beginner, intermediate and advanced).
We do not require any prerequisites!
If you have never tried Acro before, feel welcome to join our community.