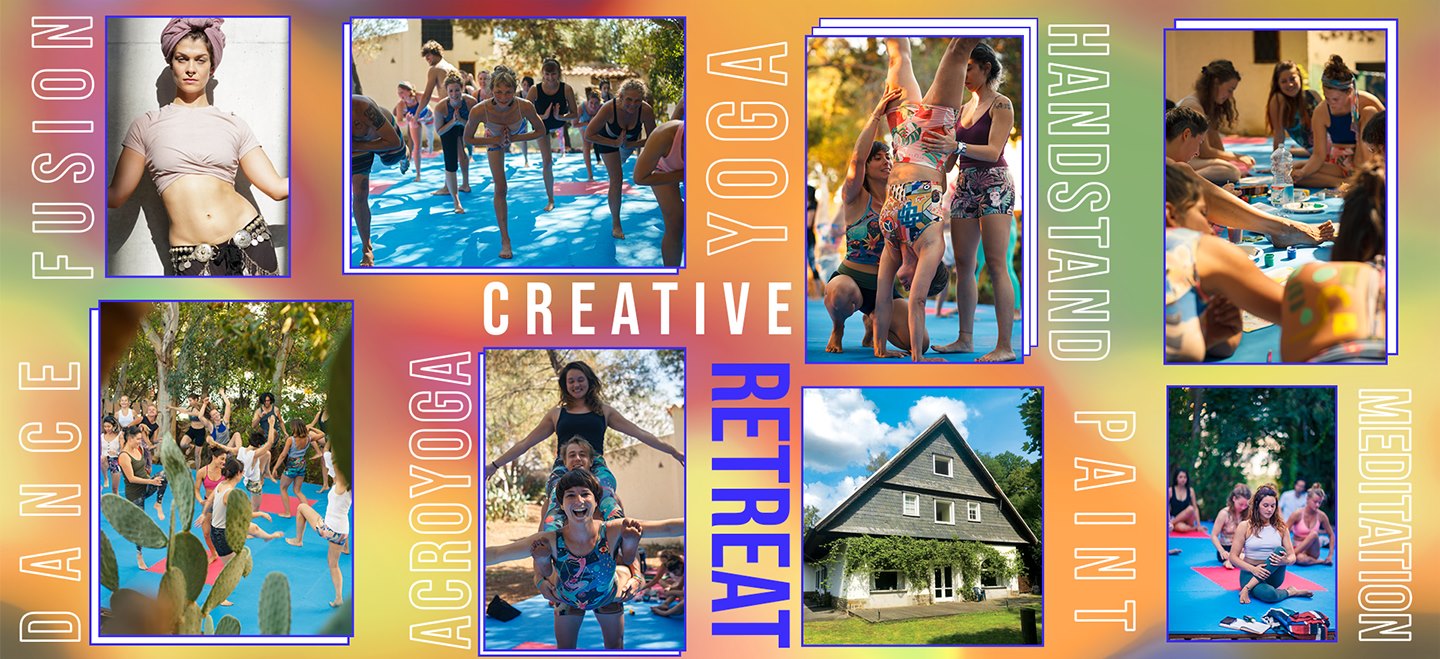 Creative Yoga Retreat 2021 – Brunnenhaus
Dates: 03. – 10. July 2021
Location: 'Projekt Brunnenhaus'. In der Aue 2, 42929 Wermelskirchen. See some photos and impressions here.
Price: from 545€ up to 645€, find more information in the registration form
Early Bird: Early bird prices available until 01. March 2021
Level : all classes are open classes, we don't expect you to have experience in all the areas. In the classes the level will be tailored to participants individually and can be split, if there is a gap between beginners and intermediate or advanced.
Group: 25 participants max.
Language: English (main language) and the teachers also speak German, Spanish, Turkish and Croatian
Our summer retreat will take place in a beautiful forest house close to Köln. The house is situated close to a spring, in the midst of the forest, with a big garden and well equipment training spaces – indoor as well as outdoor. We have put together an interesting group of experienced teachers that will lead the group through a variety of active and relaxing movements as well as creative skills.
The classes will be all taught in English, there will be a maximum of 25 participants and seven teachers from Turkey, Argentina, Croatia, Spain and Germany. You will do yoga, Acroyoga, handstands, tribal fusion bellydance, pilates and some painting and drawing, too.
What's included?
 We will offer 3-4 daily sessions per day and have a variety of movements and creative skills that we want to explore together. Active movements we will guide you through are Power Vinyasa Flow Yoga, Handstands, Acroyoga, Creative Free Dance, Tribal Fusion Bellydance and Pilates. After all this excitement we also like to relax and treat the body to some soft, fluent movement. For this we will do some Yin Yoga, meditation, Thai Massage and Flying Massage.
 As we create all our designs ourselves from start to finish we also want to focus on developing some creative skills with you. We will do some painting and live sketching and learn about the visual translation of dance and music as well as the basic guidelines for portraying and pattern creation. Irina studied Fashion Design and specialised in pattern making, she will lead you through the creation of the design for the brand.
 For accommodation 'Projekt Brunnenhaus' offers you two options in their beautiful forest house, which is situated close to a spring with a huge garden and spacious and well-equipped training spaces under the roof as well as outdoors. You will sleep in a double bedroom or multiple bedroom with single or double beds.
 You will eat three healthy and yummy vegetarian meals per day prepared by our cook. Fruits are included in every meal and snacks will be available at all times.
 You will get your choice of Pitaya crop top or shorts! You get to tell us your favourites in the registration form.
 We provide a shuttle service from the closest bus station to Brunnenhaus, in case you arrive with public transportation.
Our Teachers:
Irina is co-creator of the brand and designer of all prints. She teaches creative skills including drawing, live sketching in nature and basic guidelines of portraying and pattern creation – see more of her creations here. She also teaches some dance classes that are heaps of fun!
Sara is the other co-creator of the brand and will teach handstands that are suitable for all levels. Her handstand practice and classes are creative with leg variations flows and dynamic entrances, see some on 'invertedworldberlin'. She will also lead some evening stretching sessions.
Yunus teaches Power Vinyasa Flow, which (can) include some advanced arm balances and inversions. His classes are challenging and a balanced training for the whole body. He owns his own yoga studio 'Yoga La Yoga' in Ankara, see more of Yunus here.
Ingrid is best known as 'Acroscientist' and will lead and teach Acroyoga classes for all levels. She creates beautiful shapes and flows that are fun to explore and try out, see some of them here.
Luka will lead some natural movement and exploration sessions and will team up with Ingrid to teach Acroyoga. He is an Acroyoga Intl. certified teachers and organiser of the Croatian Acrobatic Festival 'Acroatia'.
Leila will teach tribal fusion bellydance, which is a very intelligent and difficult way of mastering different muscle groups with grace. She will also teach some Pilates Body Mind. Leila is from Berlin and teaches at motion*s Tanzstudio, she performs at big and small event – see for yourself here.
Jordis is not only the host of this retreat but will also teach some relaxing Yin Yoga and meditation. She is a talented base and flyer in Acroyoga, too and makes amazing handstand shapes, see here.
If you have any questions we'd love to hear from you!
info@pitaya.yoga
Nächste Veranstaltung
Datum

18 Jun 2023

Uhrzeit

14:00